On July 20, 2022, the Mendota Trail participated in a Professional Development Day which included Washington County, VA school teachers and Bristol, VA school teachers. This was coordinated by Mendota resident and school teacher, Janet Meadows. Janet is also the owner of Mendota Expeditions (tubing and kayaking) and a Virginia Master Naturalist.
It was a misty morning at 10 am when I pulled in to see all of their vehicles. For our young Mendota Trail, we get excited by large groups of autos! We know our trail is doing her job — bringing people outdoors in a positive, healthy way! Imagine how we'll feel when we see piles of bikes!!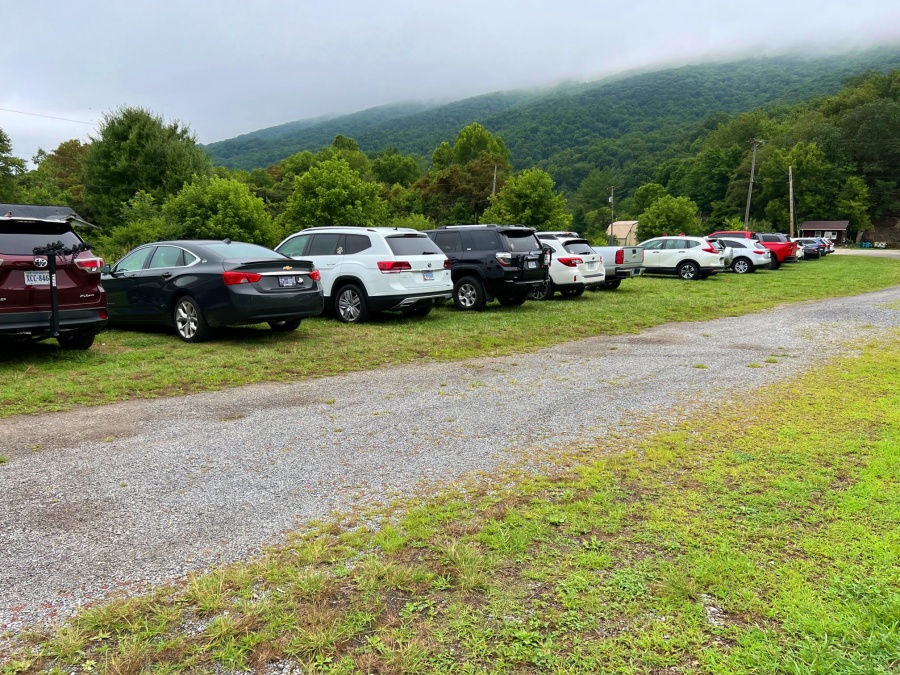 They all gathered in front of what is getting to be the famous "Mendota archway" of the Mendota side of the Mendota Trail for a picture. Many , but not all, of these teachers teach science and history. Janet Meadows is standing on the far right, front row, with a big smile on her face. She knows she has built a fun, educational agenda for her colleagues; and because she is a Mendota resident, she's making a statement about the value of her small, rural community called Mendota. Janet — thank you for including the Mendota Trail in your agenda!
Katie Cordle, also a school teacher and Virginia Master Naturalist, shared information on birding as well as a number of binoculars for the teachers to use. Katie is such a friend to wildlife in the area.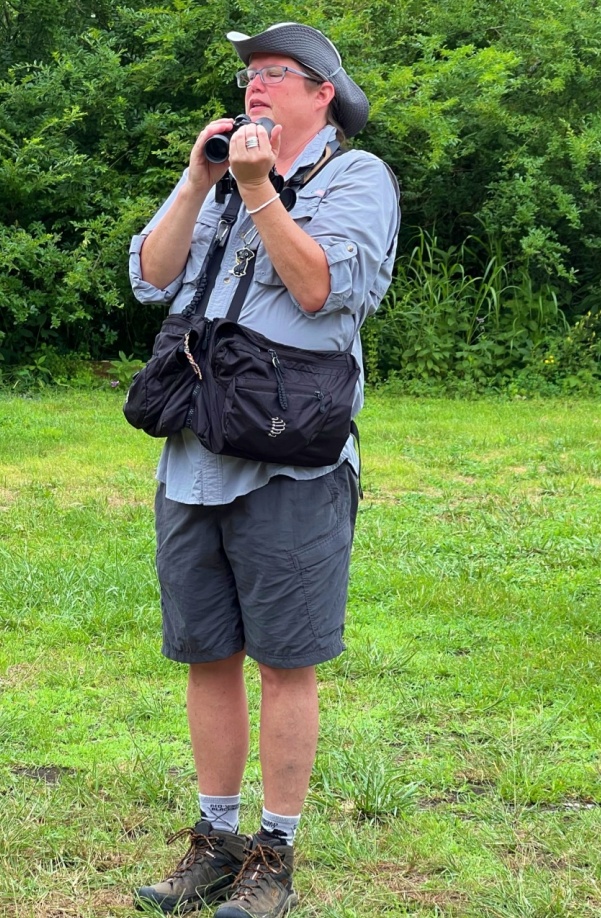 The time allowed on this day for the Mendota Trail was 90 minutes, so we walked to Sunnyside and Wildwood and then returned to Sunnyside for a group picture.
After leaving the Mendota Trail, the teachers had a busy afternoon including pollution counts on the river with the participants discussing macro invertebrates; a review of the Virginia Master Naturalist program; MWEE activity which was tubing with discussion on the water of the North Fork of the Holston. As teachers traveled down the river on tubes, they analyzed pollution (plastic, tires, metal parts, other) and counted organisms (fish, frogs, trees, plant life). This was followed by a discussion with an Aquatic Resources Biologist/Fish Diversity Specialist with the Virginia Department of Wildlife Resources.
We enjoyed being part of this special day, and we hope that other similar workshops for students and teachers take place and include the Mendota Trail as part of the activity.
Many thanks to Janet Meadows for making this happen!
Submitted by Eva Beaule